Holly Kelsven

Marketing Director

in Las Vegas, NV
Associate Information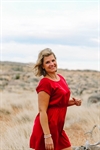 Holly Kelsven joined the Alt Group at NextHome Community Real Estate in August 2021. She approaches real estate marketing with creative and technical solutions. As a brand strategist, Holly designs collateral, manages our website, and aims to grow our NextHome family through engaging client initiatives.
Prior to her work with Alt Group at NextHome Community Real Estate, Holly graduated Cum Laude with college honors from University of Illinois at Chicago, earning a BA in applied psychology. From there, she spent 10 years in non-profit program delivery and management while independently providing marketing and technical support to small business clients.
Holly moved to Las Vegas in 2020 with her daughter and husband. You can usually find Holly cycling the streets before her workday begins, as she loves the early morning sunshine and outdoor lifestyle Las Vegas has to offer. To learn more about Holly, please visit her personal website or email Holly at holly@altgrouplv.com.